Preview of Pattathu Yanai and Sonna Puriyathu
PUBLISHED DATE: 24/Jul/2013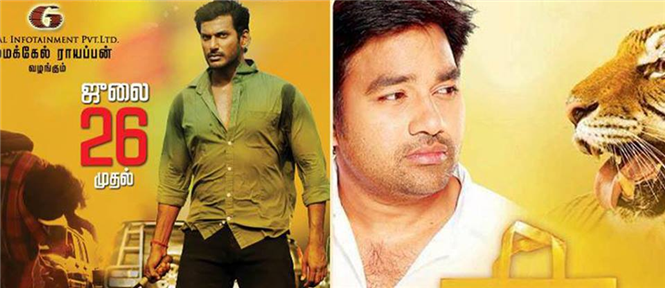 Preview of Pattathu Yanai and Sonna Puriyathu
by Raven
---
Shiva's 'Sonna Puriyathu' and Vishal's 'Pattathu Yanai' are hitting the screens this Friday (July 26). While the former is touted to be a full-fledged comedy entertainer, the latter will be action entertainer, laced with comedy. 'Pattathu Yanai' will be having a wider release when compared to 'Sonna Puriyathu'.
Pattathu Yanai
---
After the commercial outing 'Malaikottai', director Boopathy Pandian and Vishal are yet again teaming up for this film. Aishwarya, daughter of actor Arjun, is making her debut with this film. Santhanam plays a pivotal role in the film. Music is by Thaman and camera is handled by Vaithi. The movie is produced by Global Infotainment Pvt Ltd and Vishal Film Factory will distribute it in Chennai.
Vishal is desperately looking for a break after a string of flops. He has been gradually losing his way because of his over-the-top heroism and crass commercial entertainers.
Pattathu Yanai will be yet another film that will depend completely on Santhanam for its success. Santhanam has helped several films in the past. Will he be able to do one more time to resurrect Vishal's Career?
Sonna Puriyathu
---
'Sonna Puriyathu' is directed by debutante director Krishnan Jayaraj, who was a former associate of C. S. Amudhan. Shiva and Vasundhara Kashyap play the lead roles in the film. YouTube sensation Sam Anderson will be seen in a cameo act. Music is by Yathish Mahadev and camera is handled by Saravanan.
Shiva plays a dubbing artist in the film and he is expected to bring the proceedings light and frothy with his witty one-liners and body language.
Although the initial teasers were not impressive, the latest ones are much better. However, the jokes are starting to get repetitive and along expected lines.
Final Words
---
'Singam 2' is doing well at limited screens in the B and C centers while 'Maryan' is holding on quite well at the multiplex/A centers. With the buzz surrounding Pattathu Yaanai and Sonna Puriyadhu being nothing exceptional, these movies will have to attract the hardcore movie fans during the opening weekend and continue on to pull the family audience away from Singam 2 and Maryan in order to succeed at the box-office. Not to forget the fact that they have only a two week window before Vijay's 'Thalaivaa' sweep all the screens.
Watch this space for FDFS reviews for these upcoming movies.
Featured Trailers